Join the "Focusing On Me" Movement!
Focusing On Me, Inc.(501 c3) was initiated by a young lady who often had trouble focusing on herself and still do at times, but she is still learning and gaining knowledge on how to take a "FOCUSING ON ME" moment. Focusing On Me, Inc. main mission is to encourage people to focus on themselves to be productive, effective, and efficient in their DIVINE PURPOSE that is destined for their lives.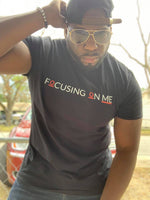 FOCUSING ON ME T-SHIRT
We cannot please everyone nor conduct our lives based on what others think of us. However, we can achieve our maximum potential. Take time to Focus.
Shop Now